Join the team and grow.
Become a Host Launch Advisor and elevate your class
Goal. Find hosts and help them turn extra space into income
Growth. "Peer-to-peer" is the fastest growing rental market online
Earn. Acquire hosts and obtain a healthy slice of the pie Apply>>
"GN is a true partner. They're passionate about helping me earn more"
- Barb, Affiliate since 2014
Differentiated approach.
Our product is stronger and we add more value
Quality. A singular focus on quality through verifications
Human touch. The only site that combines "high tech" with "high touch"
Reviews. Mutual reviews of each party means everyone wins Sign-up >
"I signed up with Guestnest because the model was superior."
- Linda, Host since 2013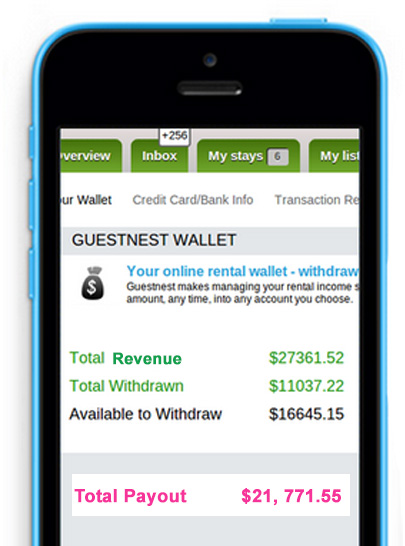 Grow your earnings.
Generous payouts for your superb performance
Revenue. Host Launch Advisors earn significant payouts
Bonuses. When you go above and beyond, the rewards multiply
Returns. The only service that pays you like a partner. We want you >
"When you have fun, make new friends and get paid, I dont really consider it work"
- Greg, Affiliate since 2012